How does the Lithuanian business management systems (ERP) market look in the international context? We tried to answer this question in 2016 by conducting a quantitative survey on financial accounting and ERP systems implemented and used in Lithuania. We compared the assessments of Lithuanian respondents with the 2016 International ERP Survey conducted annually by Panorama Consulting Solution[1].
There are many similarities in the respondents' assessments:
The distribution of companies that have adopted or are adopting an ERP is similar (89% in Lithuania and 81% globally);
Microsoft Dynamics takes the first place;
The benefits that enterprises gain from adopting an ERP (97% in Lithuania and 99% globally); the benefits they identify are similar.
However, there are also differences:
The most popular systems used in Lithuania and the world, except for the first place, differ;
Project experience in implementing the systems differs.
Systems
According to a Panorama Consulting Solutions survey, 81% of companies worldwide have implemented or are in the process of implementing an ERP. Meanwhile, in Lithuania, 89% of companies have implemented an ERP, according to the survey.
In Lithuania, the systems of Lithuanian manufacturers are predominant, while Microsoft Dynamics solutions are the most common among international manufacturers. Globally, Microsoft Dynamics solutions are the most widespread, followed by Oracle, SAP and Epicor, which account for 7% of the VMS market in Lithuania.
Implementing an ERP
In Lithuania, the survey results show that the implementation of ERP in Lithuania is better compared to the international level. Most companies have adopted an ERP within 12 months (86%), while the average duration of an EMS deployment globally is 21 months. Lithuania also has fewer projects that exceeded the planned time and budget but has a lower rate of benefit achievement.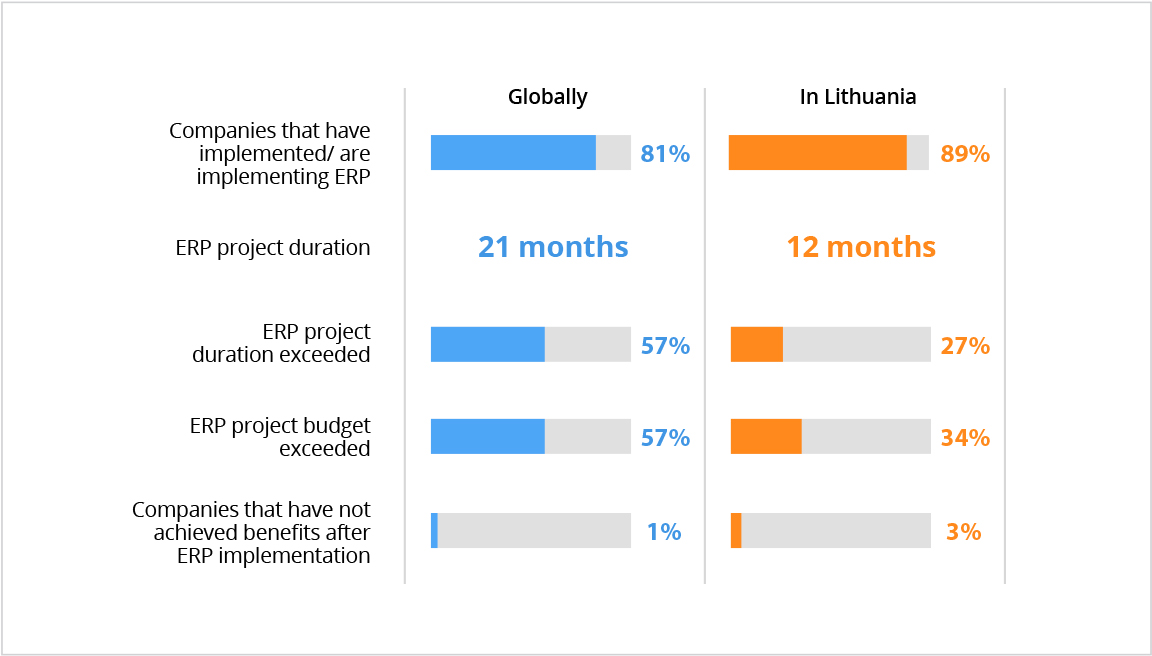 In terms of benefits, the largest number of respondents in Lithuania believe that they have improved their decision-making by implementing an ERP. Meanwhile, globally, the most common perception is that it has increased access to information.
The most common benefits achieved by implementing an ERP